Artwork by Alucard's Spirit
"Sooo…you want to spar?
Lift?
Hit the elliptical?
Or maybe…uh…hey…my eyes are up here."
When Agent Katie hits the gym, she likes to work out with a companion.
But not just some horny gym rat or gawker. 
She wants an accountability partner who helps keep her motivated and working toward a common goal.
And if a little romance happens along the way?
Well, then they become swolemates!
======
I'm sure all you creative kinksters out there can come up with an even BETTER caption than that!
SHOW ME! Add your caption in the comments below and I'll give a shoutout to my favorites on the next post!
======
Today's post is the 21st of a series, "Quick Bites Tuesday."
Credit to @CallMePlisskin for the original idea for the series.
He has his own #TuesdayTease series on his page – go check it out!
MASSIVE thank you to my artist partners who have collaborated with me on this series!!
I'm very grateful for you! #Gratitude2023
======
As promised, here's my favorite from last week; chalk up another 'win' for my friend @jonut21
teaser: you'll see more of his artwork within the next week!!
"Hey Bonzo! if you have two more Bananas, I can really show you a neat trick I learned in Bangkok!"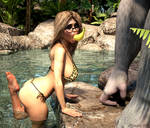 ======
This artwork is by my friend and collaborator @AlucardsSpirit
If you enjoyed, go give him a look on his DA page!
And watch for another #QBTuesday image next week.
~~~~~~