Artwork by WareWolfBarmitzvah
4kHD uncensored PDF available https://katied.gumroad.com/l/cvfzr
POOR QUINN…she insisted that she had never asked for Rudy's relentless screwing…
And that she wasn't needy and begging for it.
Incredulous, Rudy asked if she was serious. She really didn't want him at all?
Quinn had to admit…as vile and repulsive as Rudy was, she'd never been fucked quite like this before…she was beginning to enjoy it.
She might even cum for him…


======


I've posted pages #1-18, and this is #20…so what happened to #19??
Well, #19 is too explicit to post to DA or WP at all. No censoring was gonna work.

There are 3 more pages still to post to DA- but if you don't want to wait, the complete PDF is available immediately!
The complete PDF with 25 uncensored images in HD is available at: katied.gumroad.com/l/cvfzr
======
art by @WarewolfBarMitzvah, dialogue by me.
'Rudy' is his OC.
Shout out to WareWolfBarmitzvahfor the amazing community he's built on his discord server. Everyone there is awesome about coaching and mentoring in a really collaborative environment where egos are put aside, art is freely shared, and feedback is welcomed.
If you enjoyed, go give WareWolfBarmitzvah a look on his DA page or Twitter, and he's worthy of your subscription budget at Pixiv and/or SubscribeStar.
======
This is page 20…3 more pages to go.
First: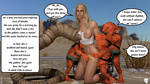 Previous: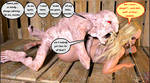 If you'd like to join us in our Agents of S.P.A.N.K. discord server, send me a private message.