Art by Jonut21
Image and more at WordPress link
Art by Jonut21 Go check out his page!
=======
Determined to track down the mysterious (and kinky) Greeblies, Agent Katie checks into The Manor to investigate the 'Sinister Sisters' and their connection to 'Jonut 21, LLC.'
Not critical, but recommend you check out part 1 first!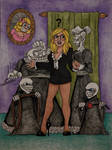 ========
I wasn't at all surprised to find the Greeblies were part of the attempt to restrain me – I'd been tied up and tormented by the horny little cretins a few times before. They were persistent in that!
What caught me off guard was being grabbed and pinned by the Sinister Sisters – and how eerily strong they were! The tall slender sister held my arms up so that I couldn't get any leverage. The short stocky one grabbed me around the middle.
I should have been able to twist and pull away from them, but I was held firmly in their grip. Before I could break free, the Greeblies clutched their arms around my thighs.
I saw a delicate bone-white cloth coming up toward my face, so I renewed my squirming before it was too late to resist.
"NO…wait…let me go…this isn't what…"
I kept struggling right up until the exquisitely embroidered lace-trimmed cloth covered my mouth and nose, and I inhaled a familiar sickly-sweet scent -which I recognized immediately, of course.
If I had a dollar for every time I'd inhaled a dose of chloroform, well, I could afford to take off the whole week instead of just the holiday (and those were just the work-related times).
I fought until I felt my arms growing heavy, my knees getting weak, and my eyesight fading in and out of focus. I would have worried about falling, but the sisters clutched me with wiry arms.
And, of course, the Greeblies still clutched onto my thighs, though their free hands were wandering higher. I don't know if my struggles were making my skirt ride up, or if their hands were the cause, but I felt slender fingers well above the tops of my stockings.
I wasn't able to worry about their grabby hands or sinister plans much longer…I was losing consciousness, and once I was out, I wouldn't have any say in what happened to me.
Whatever treatments were included in the 'Surprise Me' weekend package, I was theirs to do with as they pleased!
~~~to be continued~~~

Huge thanks to my friend @jonut21 for this fun Agent Katie artwork.
I'm flattered that her stories can inspire his artwork, and I'm grateful for the gift!
Go check him out on his DA page for lots of fun scenes and more artwork with his minions!
Thanks to all the creative partners in our community for all the creative energy, enthusiasm and encouragement of our entire group–I'm grateful to all of you! #Gratitude2023 <–my mantra for the new year! Thanks to all of you, 2023 is my BEST YEAR EVER!
If you'd like to join us in our Agents of S.P.A.N.K. discord server, send me a private message.