Art by SchulzWorld
Image and more at WordPress link
Art by SchulzWorld. Go check out his page!
======
Junior Agent Natalie has an insatiable curiosity and a desire to understand her kinks.
Taking advantage of some alone time in her dorm room at S.P.A.N.K. Academy, she tries out some self-bondage with her newly issued handcuffs.
======
Junior Agent Natalie would never forget the day at S.P.A.N.K. Academy that trainees were issued their first set of regulation handcuffs.
She turned them over and over in her hands right there in the classroom, tracing her fingertips over the cool smooth metal and listening to the clinking of the short chain.
Nor would she ever forget the first lesson in how to put them on someone…or more precisely, she'd never forget when her training partner first put their cuffs on her.
It set off sparks inside her that she didn't quite understand at the time. She'd felt those sparks before, but never with such a visceral connection to the moment of being restrained. She found herself breathing more deeply and involuntarily clenching her thighs together.
She fervently hoped none of her classmates noticed. She looked furtively around the room, but the only person to make eye contact was the instructor, Senior Agent Amelia Swallow.
Natalie had never seen "Hard-Ass Amy" crack a smile before, but she was pretty sure she caught a slight upturn in the lips of the attractive older instructor.
Now, back in her dorm room, Natalie sat on the edge of her bed locking and unlocking her own cuffs upon her wrists. She told herself it was just for practice, so her movements and muscle memory would be fluid. And, she thought, she should probably learn how to escape them, too.
Natalie knew her desire was for more than just practice, though. She wondered what it would be like to lock her own wrists behind her. 'Maybe tomorrow,' she thought.
Tonight, she had something else in mind. She set the key carefully on her nightstand and laid back on her bed. She held her cuffed hands in front of her and stared at the way the ringlets looked around her slender wrists.
She rested her hands upon her tummy, her fingers splayed out across her bare skin. Her fingertips brushed the thin waistband of her purple lace panties. She glanced at the door to make sure it was locked. 'Am I really going to do this? What if my roommate gets back early?'
That last question stirred a different thrill inside Natalie that helped make the decision for her. She closed her eyes, and tucked her fingertips inside the lacy gusset.
======
You can learn a little more about Junior Agent Natalie in her bio, here: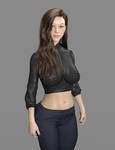 Big kudos to @SchulzWorld for his design work on Junior Agent Natalie and this fun self-bondage image.
Go give his page a look and check out his other fun and sexy work!
======
Thanks to all the creative partners in our community for all the creative energy, enthusiasm and encouragement of our entire group–I'm grateful to all of you!
If you'd like to join us in our Agents of SPANK discord server, send me a private message.