Artwork by @Loraxxx
"Why are you squirming? Not every damsel gets a tour of my lair…only 14 more rooms to go!"
======
I'm sure all you creative kinksters out there can come up with an even BETTER caption than that!
SHOW ME! Add your caption in the comments below and I'll give a shoutout to my favorites on the next post!
======
Today's post is the 13th of a series, "Quick Bites Tuesday."
Credit to @CallMePlisskin for the original idea.
Check out his own#TuesdayTease on his DA page.
MASSIVE thank you to my artist partners!
======
As promised, here's my favorite from last week.
There were a few funny ones but the one that cracked me up the most was from my friend https://www.deviantart.com/a1rgos
"Now…I'm not gonna mince words. I want you to leave in this car today. What's it gonna take to get you in the trunk right now?"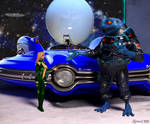 ======
This artwork is by my friend and collaborator @Loraxxx 
If you enjoyed, go give him a look on his DA page!
And watch for another #QBTuesday image next week.
~~~~~~