Artwork by WareWolfBarmitzvah
"Say hellooo to my leeetle friend…'
Lysette is tricked into becoming the Mad Monk's 'Midnight Offering' in this dramatic image by WWBM.
======
I'm sure all you creative kinksters out there can come up with an even BETTER caption than that!
SHOW ME! Add your caption in the comments below and I'll give shoutouts to my favorites on the next post!
======
Today's post is the eleventh of in my caption fun series, "Quick Bites Tuesday."
It started in conjunction with @CallMePlisskinHe has his own #TuesdayTease series on his page – go check it out!

======
I couldn't pick just one favorite quote from last week, so kudos to both @Chickfighter and @a1rgos
@Chickfighter said:
"Some pigs are more equal than others." (outstanding literary reference award!!)
@a1rgos said:
"ISN'T SLAVE GIRL PROUD OF HOW GOOD MASTER IS READING NOW?
"Don't tell him he's holding the book upside down…don't tell him he's holding the book upside down…"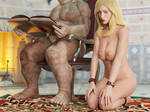 ======
This artwork is by my friend and collaborator Artwork by WareWolfBarmitzvah
If you enjoyed, go give him a look on his DA page!
And watch for another #QBTuesday image next week.