Art by vrobx1
Image and more at WordPress link
Art by vrobx1 Go check out his page!
=======
Meet the newest rookie Junior Agent of S.P.A.N.K., Blair Morris, letting the sun kiss her perfect skin on a beach (in an undisclosed location).
Her first mission didn't exactly go as planned (A Cosplay Concern by vrobx1 on DeviantArt) but the young woman is sure to learn from her mistakes and be more successful in her next mission.
Or, end up bound and gagged at the mercy of some other villain.
With rookie agents, it can go either way…oh who am I kidding, we all know which way it's going to go!
======
How about some SASS for your Sunday morning?
(Yeah, you know me…always bringing the SASS!)
Sunday Artist Spotlight Series #7 – vrobx1
======
Today is the seventh in a new series where I'll feature images from one of my artist friends.
Today's spotlight is on @vrobx1 , an artist who is primarily a writer – who then began creating artwork for his own stories.
He's been experimenting with blending AI styles to create some very unique looks.
You'll see from his page he's not just churning out dozens of cookie-cutter AI images with the same model over and over.
He's adding a genuine artistic flair to his work, and displays some nice variety on his pages.
Though I've not known him very long, he's brought an infectious enthusiasm to our Agents of S.P.A.N.K. server and to the comments sections of my DA posts.
He recently asked if he could create his own Junior Agent character and have her inhabit the AoS world.
And he's done so carefully and respectfully, trying to learn the lore and canon to ensure Blair fits in well.
Blair has already starred in one full story about her first mission on an undercover modeling gig: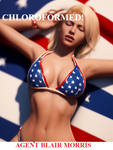 And then in another quick vignette from another probationary mission, where she may have been a little too eager to impress the senior agents: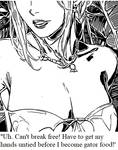 And her significant other, Julia, is part of Blair's second story, to be published soon…watch @vrobx1 for its release!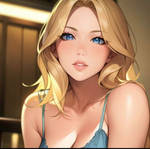 He also writes stories for some other DA personalities such as @Cecyme and @DaisyPierce2000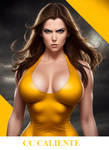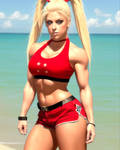 And he has his own squad of superheroines, the Freedom Force!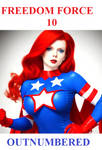 PLEASE go check out vrobx1's page, take a good look around, and give him some positive reinforcement!
======
Thanks to all the creative partners in our community for all the creative energy, enthusiasm and encouragement of our entire group–I'm grateful to all of you!   #Gratitude2023 <–my mantra for the new year!
If you'd like to join us in our Agents of S.P.A.N.K. discord server, send me a private message.