Artwork by WareWolfBarmitzvah
"My new domme was petite, with delicate features and a deliberate touch – and somehow that made her all the more intimidating."
======
I'm sure all you creative kinksters out there can come up with an even BETTER caption than that!
SHOW ME! Add your caption in the comments below and I'll give shoutouts to my favorites on the next post!
======
Today's post is the latest of a new experiment, "Quick Bites Tuesday."
It's a little something I'm testing in conjunction with my collaborator and friend @CallMePlisskin
Go check out his Tuesday Tease – 003 on his page.
======
As promised, here's my favorite from last week, by my friend @jonut21:
"So you're serious? Victoria secret is selling rope and they need models?"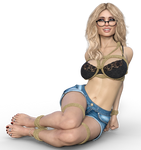 ======
This artwork is by my friend and collaborator WareWolfBarmitzvah
If you enjoyed, go give him a look on his DA page!
And watch for another #QBTuesday image next week.
~~~~~~