Artwork by La-Loud
"Hurry! I think I hear them coming back…"
======
I'm sure all you creative kinksters out there can come up with an even BETTER caption than that!
SHOW ME! Add your caption in the comments below and I'll give shoutouts to my favorites on the next post!
======
Today's post is the fifth of a new experiment, "Quick Bites Tuesday."
It's a little something being tested in conjunction with @CallMePlisskin
Go check out his Caption competition #TuesdayTease – 006 on his page.
======
As promised, here's my favorite from last week, by the talented and very humorous artist @Timetraxx:
~~~~~~
Kermit told her the story of how his extended family had suffered mightily at the hands of the cruel humans. A beloved uncle, savagely drawn and quartered. A caring grandfather, ruthlessly murdered in the name of "science". He vowed his revenge and assured her that she would personally pay dearly for loss of each of his relatives.
It was then that she began to regret the enthusiastic approach that she had taken during high school biology amphibian dissection lesson…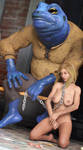 ======
This artwork is by my friend and collaborator @La-Loud and includes her OC.
If you enjoyed, go give her a look on her DA page!
And watch for another #QBTuesday image next week.