Artwork by WareWolfBarmitzvah
Full uncensored image and text at WordPress Link
OH POOR QUINN…Rudy the big boss is finally giving her some attention, but it's not exactly in the way she hoped.
Rudy's never really been a fan of keeping humie pets around.
He let the orange runts keep her mostly because she kept them out of his business.
Once he agreed to keep her, perhaps he felt responsible for her.
Quinn is doing everything she can to please Rudy and submit to his every whim…
But Rudy just doesn't have patience for humie girls…not when his TV programs are waiting!
Rudy and Quinn really do have a very twisted relationship!
======
This image had to be censored but you can see the uncensored image here:
art by @WarewolfBarMitzvah, dialogue by me.
'Rudy' is his OC.
Shout out to WareWolfBarmitzvahfor the amazing community he's built on his discord server. Everyone there is awesome about coaching and mentoring in a really collaborative environment where egos are put aside, art is freely shared, and feedback is welcomed.
If you enjoyed, go give WareWolfBarmitzvah a look on his DA page or Twitter, and he's worthy of your subscription budget at Pixiv and/or SubscribeStar.
======
This is page 17…more pages will be posted over the next few weeks, so watch for more Quinn soon!
First: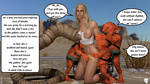 Previous: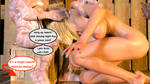 If you'd like to join us in our Agents of S.P.A.N.K. discord server, send me a private message.