Artwork by WareWolfBarmitzvah
4kHD uncensored PDF available https://katied.gumroad.com/l/cvfzr
POOR QUINN…she resisted Rudy for so long, but it was inevitable…Rudy had that certain je ne sais quoi that conquered her will and made her submit to him.
Quinn begged and pleaded, but to no avail. Rudy decided she was too clingy – he couldn't be tied down! (Was it possible he was afraid he actually liked her? He'd lose all his evil goblin street-cred!!)
In the end, Rudy decided that Quinn had to go. But maybe, he thought, he could at least sell her for a decent amount at a slave auction. Or, if he couldn't sell her, perhaps he could trade with the two skeleton warriors for their elf. He and the orange runts hadn't had any elf in a while!
======
This is the final page…I hope you've enjoyed this twisted love story of Quinn and Rudy, a love that wasn't meant to be. It was a ton of fun creating this over the last 15 months.


There is bonus content in the PDF: in addition to the 25 uncensored images in HD, I've included several bonus images of Quinn as well.

======
art by @WarewolfBarMitzvah, dialogue by me.
'Rudy' is his OC.
Shout out to WareWolfBarmitzvah for the amazing community he's built on his discord server. Everyone there is awesome about coaching and mentoring in a really collaborative environment where egos are put aside, art is freely shared, and feedback is welcomed.
If you enjoyed, go give WareWolfBarmitzvah a look on his DA page or Twitter, and he's worthy of your subscription budget at Pixiv and/or SubscribeStar.
======
This is the final page…I hope you've enjoyed!
The complete PDF with 25 uncensored images in HD is available at: katied.gumroad.com/l/cvfzr
First: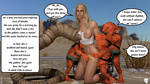 Previous:
If you'd like to join us in our Agents of S.P.A.N.K. discord server, send me a private message.