artwork by MenchiMenagerie
Oh Noes!
Laressa and the LIVING LATEX have encased Evie again!!
And it's ANIMATED for our enjoyment thanks to the creative efforts of my good friend and collaborator @MenchiMenagerie .
In

we learned about the Encasement Slime developed by the Codex Cryptae Research and Development Labs. Director Elle developed the living latex restraint system and recruited Evie to help with testing.
So when Elle developed a new and improved specimen, naturally Evie was the perfect agent to test it.
But to get 'real world' testing, she didn't want Evie to know about it ahead of time – so how to surprise her?
Of course Laressa was all too willing to help out – especially if it meant an opportunity to have Evie at her mercy.
Evie was dispatched to a clandestine meeting in a dark alley, where Laressa lay in wait.
As you can see, the new specimen was every bit the success that Elle (and Laressa) hoped it would be!
And here are the individual slides for your enjoyment as well!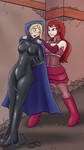 and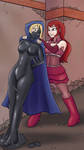 and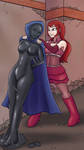 ======
Please go give @MenchiMenagerie a visit over on his page and show him some love!  He's definitely worthy of your kinky fun times commission budget!
Here's a great example of one of our projects together: Testing, Just Encase
He's a lot of fun to work with and his commission rates are very reasonable. Please go check out his DA page and consider working with him!

Go check out his work and give him some positive reinforcement!