Artwork by Alucard's Spirit
Agent Katie was enjoying a swim in a cool natural pool near the jungle resort.
When she popped up out of the water, a mighty ape was standing there with heart-shaped eyeballs popping out of his head like a Tex Avery cartoon.
He popped a banana in her mouth!! Was it an offering for his crush? Or perhaps something more suggestive?
"Muhh harr 'oo hooin?? Muht 'oo hant umm meeee???"
======
I'm sure all you creative kinksters out there can come up with an even BETTER caption than that!
SHOW ME! Add your caption in the comments below and I'll give a shoutout to my favorites on the next post!
======
Today's post is the 20th of a series, "Quick Bites Tuesday."
Credit to @CallMePlisskin for the original idea.
He has his own #TuesdayTease series on his page – go check it out!
MASSIVE thank you to my artist partners who have collaborated with me on this series!!
I'm very grateful for you! #Gratitude2023
======
As promised, here's my favorite from last week, by my friend https://www.deviantart.com/metalbeowulf89
"I'm positive that I don't want what you're selling."
"We'll only be a moment, Ma'am. Did you know that our master, the mighty Cthulhu, has a plan for your life?"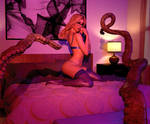 ======
This artwork is by my friend and collaborator @AlucardsSpirit
If you enjoyed, go give him a look on his DA page!
And watch for another #QBTuesday image next week.
~~~~~~