Artwork by Alucard's Spirit
"I'm sorry I ordered sashimi on our date – that wasn't a relative, was it?"
It was already late at night when the news of the invasion went out.
Horrific alien creatures were body-snatching men and women right off the street – it was impossible to know who was human, and who was just a puppet for their alien masters.
Agent Katie was getting ready for bed when the tentacled horror appeared…before the blonde beauty realized it, the creature was reaching out to claim her!
Will she be able to slip away in her lovely lingerie? Or will her body be snatched by the aliens as well?
======
I'm sure all you creative kinksters out there can come up with an even BETTER caption than that!
SHOW ME! Add your caption in the comments below and I'll give a shoutout to my favorites on the next post!
======
Today's post is the 19th of a series, "Quick Bites Tuesday."
Credit to @CallMePlisskin for the original idea.
He has his own #TuesdayTease series on his page – go check it out!
MASSIVE thank you to my artist partners who have collaborated with me on this series!!
I'm very grateful for you! #Gratitude2023
======
As promised, here's my favorite from last week, by my good friend @Rob66 :

"When Mr. Pacman seeks treatment from Dr. Jekyll!"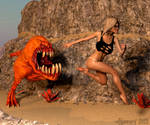 ======
This artwork is by my friend and collaborator @AlucardsSpirit
If you enjoyed, go give him a look on his DA page!
And watch for another #QBTuesday image next week.
~~~~~~