Artwork by ArtOfVenus
Evie: "What are you complaining about, Kara? You DO prefer being on top!"
======
uncensored image at katied.life
======
I'm sure all you creative kinksters out there can come up with an even BETTER caption than my dialogue above.
SHOW ME! Add your caption in the comments below and I'll give shoutouts to my favorites on the next post.
======
Today's post is the 17th of a series, "Quick Bites Tuesday."
It started in conjunction with @CallMePlisskinHe has his own #TuesdayTease series on his page – go check it out!

======
As promised, here's my favorite from last week, by @dyhi97wu
There were MANY good ones but I thought this captured the kind of sassy sarcastic banter Kar-Vie enjoys:
Kara: "Don't pout, Evie, that you lost and have to wear the boring top today."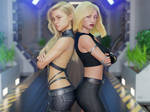 ======
This artwork is by my friend and collaborator @ArtofVenus
All celebrity couples deserve a hyphenated nickname, right?
Kudos to him for coming up with 'Kar-Vie' for our girls.
If you enjoyed, go give ArtOfVenus a look on his DA page or other links, and he's worthy of your subscription budget at Patreon and/or SubscribeStar.
And watch for another #QBTuesday image next week.