Artwork by Alucard's Spirit
"Ok, thanks…this is really going to help me write the peril scene better, so I think you can let me go now…hello? HELLO??"
======
I'm sure all you creative kinksters out there can come up with an even BETTER caption than that!
SHOW ME! Add your caption in the comments below and I'll give a shoutout to my favorites on the next post!
======
Today's post is the 15th of a series, "Quick Bites Tuesday."
Credit to @CallMePlisskin for the original idea.
Check out his own#TuesdayTease on his DA page.
MASSIVE thank you to my artist partners who have collaborated with me on this series!!
I'm very grateful for you!
======
As promised, here's my favorite from last week that will also be used in a future story.
There were many good ones; the one I enjoyed the most was from my friend @MenchiMenagerie:
"Look at you, so tender and soft, so close to breaking. Oh, how you'll beg for my mercy over and over again, and all I will say to you is NO."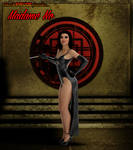 ======
This artwork is by my friend and collaborator @AlucardsSpirit
If you enjoyed, go give him a look on his DA page!
And watch for another #QBTuesday image next week.
~~~~~~