Artwork by Alucard's Spirit
"I've never met an agent who could look me in the eye for more than ten seconds…what makes you think you'll be any different, Agent Katie??"
======
I'm sure all you creative kinksters out there can come up with an even BETTER caption than that!
THIS WEEK THERE'S A TWIST: Give me your best quote or catchphrase for Madame No, and my favorite(s) will be included in her dialogue in her stories!!!
======
A bit of background:
Right after I created the Agents of S.P.A.N.K. I created an adversary agency for them, 'I-PRUDE.'
But they never had any developed character (except for 'Reverend Hipp-Crit.')
@AlucardsSpirit and I have had some fun developing a few new characters that will be appearing in stories and images soon…starting with Madame No, the behind-the-scenes leader and founder of I-PRUDE.
On the surface she's a philanthropist and activist…but behind the facade…she's a very very wicked woman!
======
Today's post is the 14th of a series, "Quick Bites Tuesday."
Credit to @CallMePlisskin for the original concept.
Check out his own#TuesdayTease on his DA page.
MASSIVE thank you to my artist partners who have collaborated with me on this series!!
I'm very grateful to you!
======
As promised, here's my favorite from last week.
There were a few really funny ones but the one that cracked me up the most was another from my friend @Rob66
"You're grounded, Tommy! I told you not to let the babysitter escape!"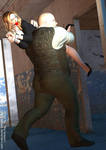 ======
This artwork is by my friend and collaborator AlucardsSpirit
If you enjoyed, go give him a look on his DA page!
And watch for another #QBTuesday image next week.
~~~~~~