Artwork by ArtOfVenus
"KARA! KARA! GET YOUR CUTE ASS OVER HERE AND SAVE MEEEEEEEEEEEEEE!!"
======
I'm sure all you creative kinksters out there can come up with an even BETTER caption than that!
SHOW ME! Add your caption in the comments below and I'll give shoutouts to my favorites on the next post!
I know there's more of a story here, so I'm hoping some of the suggested captions will inspire me to write it… 😃
======
Today's post is the seventh of a new series, "Quick Bites Tuesday."
It's a little something in conjunction with @CallMePlisskin
Go check out his #TuesdayTease series on his page.
======
As promised, here's my favorite from last week, by my friend @DaisyPierce2000
"Let's earn money as substitute teachers, you said! What could go wrong, you said!"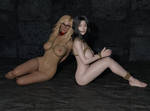 The banter from that comment actually inspired @La-Loud to do a couple follow up images!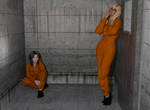 and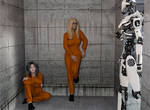 ======
This artwork is by my friend and collaborator @ArtofVenus
It also was 1 of 2 images he created for my birthday last week.
The other version is posted on his page.
If you enjoyed, go give ArtOfVenus a look on his DA page or other links, and he's worthy of your subscription budget at Patreon and/or SubscribeStar.
And watch for another #QBTuesday image next week.