Artwork by Alucard's Spirit
Full image and more at WordPress links
"This is one time it doesn't pay to be a 'glass half full' kind of girl…""
Madame No still has Agent Katie hanging out, this time in a water torture tank!
======
I'm sure all you creative kinksters out there can come up with an even BETTER caption than that!
SHOW ME! Add your caption in the comments below and I'll give a shoutout to my favorites on the next post!
======
Today's post is the 29th of a series, "Quick Bites Tuesday."
Credit to @CallMePlisskin for the original idea for the series.
MASSIVE thank you to my artist partners who have collaborated with me on this series!!
Thanks to all of you, 2023 is the BEST…YEAR…EVER!!!
101 days of consecutive posts!
I'm very grateful for you!   #Gratitude2023
======
There were a few really good quotes last week, but I enjoyed this one for the storyline crossovers, from https://www.deviantart.com/crunien
"Don't worry Agent Katie, you won't be here long. You are the main lot in our Space Toad auction…" the Madame grinned evilly, "…and there are many eager bidders."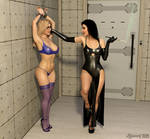 ======
This sexy kinky fun times image is from my friend and collaborator @AlucardsSpirit
If you enjoyed, go check out his page for even more kinky fun times!
Thanks to all the creative partners in our community for all the creative energy, enthusiasm and encouragement of our entire group–I'm grateful to all of you! #Gratitude2023 <–my mantra for the new year!
If you'd like to join us in our Agents of S.P.A.N.K. discord server, send me a private message.
~~~~~~