Art by Jonut21
Image and more at WordPress link
Art by Jonut21 Go check out his page!
=======
In a private room in The Manor, Countessa and Madame No prepare to put Agent Katie's resistance (or lack thereof) to the test.
And while they appear to be well equipped with 'tools of the trade' for effective questioning, Agent Katie is beginning to wonder if they have interrogation in mind – or maybe just a long night of toying with and tormenting their captive plaything.
After all, it's been well over an hour and they have yet to ask a single question…
========
Gosh it sure was generous of @jonut21 to provide a nice quiet space for the two I-PRUDE villains to have uninterrupted fun.
Such a gracious host, preparing a well-appointed soundproofed room and a rolling cart of supplies.
One wonders just what is in it for @jonut21 – what have Madame No and Countessa promised him in exchange?
A HD recording of the night's activities?
A front row seat?
Or taking possession of Agent Katie when they're done?
What's that he said? "All of the above?"
======
Huge thanks to my friend @jonut21 for this fun Agent Katie artwork.
I'm flattered that her stories can inspire his artwork, and I'm grateful for the gift!
Go check him out on his DA page for lots of fun scenes and more artwork with the Greebs!
Previous: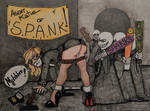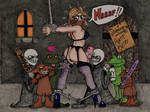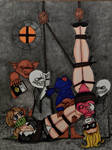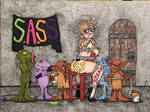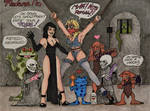 If you would like to join us in the AGENTS OF S.P.A.N.K. discord server, send me a private message!