Art by Jonut21
Image and more at WordPress link
Art by Jonut21 Go check out his page!
=======
How about some SASS for your Sunday morning?
(Yeah, you know me…always bringing the SASS!)
Sunday Artist Spotlight Series #5 – Jonut21
======
Today is the fifth in a new series where I'll feature an image from one of my artist friends.
Today's spotlight is on jonut21, an artist who brings a great sense of humor to his fun artwork.
He draws lots of bondage and gaggage, in costumes and poses that add a twist of humiliation or teasing as common themes.
You can see from his gallery that he focuses on expressive faces of sexy damsels being distressed by a variety of 'little' creatures.
The damsels are usually ganged up on and overpowered by creatures like goblins, greys, and frogs, and in some of the more humorous ones the captors are creatures like little tribesmen with KISS makeup, sock monkeys, and childrens' toys.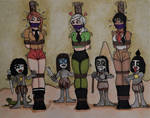 and

My favorites by far are his own OC creatures called 'The greeblies,' aka 'greebs.'
These cute little guys like to host 'meet and greet' sessions with bound and gagged OCs of his friends and the occasional pop culture character.
Agent Katie has already been their 'guest' a few times.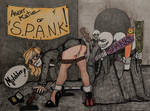 and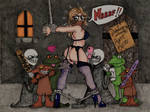 Oh dear…please don't tell the greebs I called them 'cute' again.
They didn't appreciate that last time, and they let me know it.
Jonut21 is also a great guy, generous with praise and encouragement, and always shows his gratitude.
I don't, however, recommend getting into a pun war with him, I have yet to win one.
When I told him I wanted to spotlight him this week, instead of me choosing an image to feature, he decided to create a special one!
Actually, he asked Agent Katie to 'sit for a painting,' but some minions showed up instead of him, and well…you can see above how that turned out.
======
Jonut21's DA gallery is full of beautiful imperiled damsels emoting while being tormented by an array of little minions – go check out his work and give him some positive reinforcement!
======
Thanks to all the creative partners in our community for all the creative energy, enthusiasm and encouragement of our entire group–I'm grateful to all of you!
If you'd like to join us in our Agents of S.P.A.N.K. discord server, send me a private message.