Artwork by La-Loud
Now I don't just have a tiny roomie, I AM a tiny roomie!
Unfortunately, before I could find a solution to restore @La-Loud to full size, the collector came back!
Now we're both just collected samples in matching jars…off to who knows where??
======
@La-Loud had a fun little idea where her character was shrunken by 'The Collector.'
'The Collector' story concept came from original artwork by our mutual friend @AlucardsSpirit
And began in this previous image by @La-Loud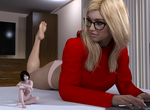 And continued here!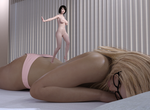 ======
This artwork is by my friend and collaborator @La-Loud and includes her OC.
I want to show her my # Gratitude for her support!
#Gratitude2023 <– my mantra for the year!
If you enjoyed, go give her a look on her DA page and show her some love!