Artwork by WareWolfBarmitzvah
Full image and text at WordPress Link
OH POOR QUINN…Rudy the big boss is finally giving her some attention, but it's not exactly in the way she hoped.
Rudy challenged Quinn to fight him, offering her freedom if she was able to best him.
Quinn surprised Rudy at first as a trained fighter…but goblins don't fight fair.
And they don't show any mercy when their opponent is vulnerable, either.
Rudy grabbed Quinn's arm to pull her further off balance while driving his knee into her gut.
"Dayum, humie," he sneered while he held her bent over his knee. "Yer ass is 'most as sweet as yer tits!"
With a wide flat palm, he began to smack her ass, the impact on her toned rear echoing in the room – punctuated only by her gasps and sobs.
======
art by @WarewolfBarMitzvah, dialogue by me.
'Rudy' is his OC.
If you enjoyed, go give WareWolfBarmitzvah a look on his DA page or Twitter, and he's worthy of your subscription budget at Pixiv and/or SubscribeStar.
======
This is page 11 of 14…more pages will be posted over the next few weeks, so watch for more Quinn soon!
First: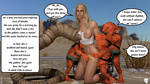 If you'd like to join us in our Agents of S.P.A.N.K. discord server, send me a private message.