Artwork by Saurian-Shade 
"First he was my captor…then my tormentor…over time he became my Master…and now, my companion and protector."
======
I'm sure all you creative kinksters out there can come up with an even BETTER caption than that!
SHOW ME! Add your caption in the comments below and I'll give shoutouts to my favorites on the next post!
======
Today's post is the ninth of a new series, "Quick Bites Tuesday."
It started in conjunction with @CallMePlisskin
He has his own #TuesdayTease series on his page – go check it out!
Caption competition #TuesdayTease
======
As promised, here's my favorite from last week, by my friend @DaisyPierce2000
"I've kissed ya FIVE times and ya ain't turned into a prince yet! You wouldn't be lyin' to me, would ya?"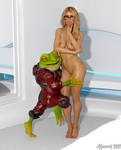 ======
This artwork is by my friend and collaborator @Saurian-Shade
If you enjoyed, go give him a look on his DA page!
And watch for another #QBTuesday image next week.
~~~~~~