Art by paulm131
Image and more at WordPress link
After @paulm131 saw the recent #QBTuesday #07 by @ArtofVenus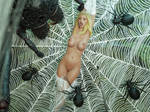 He was inspired to see Evie a little more wrapped up.
He did this awesome manipulation of the image, and both Venus and I thought it was worth sharing!
Thanks very much, @paulm131, we're flattered you were so inspired by our collaboration!
Go check him out on his DA page!
https://www.deviantart.com/paulm131
======
Thanks to all the creative partners in our community for all the creative energy, enthusiasm and encouragement of our entire group–I'm grateful to all of you!
If you'd like to join us in our Agents of SPANK discord server, send me a private message.