Artwork by La-Loud
Their captors left Katie and Loud tied up at the scene of the crime.
Since they didn't have a good explanation or reason for being there, the 'authorities' took them to a holding facility until they could 'sort things out.'
I wonder how long that is gonna take??
======
This one came out of some fun comments on last Tuesday's #QBTuesday post.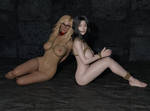 DaisyPierce2000 and I were bantering in comments and said that Loud and I should have 'volunteered at a womens' prison,' (go see the comment, it's better than me explaining it).
La-Loud saw the comment and was inspired, and next thing you know, here we are looking good in orange!
Thank you DaisyPierce2000 for the idea, and please go see more of La-Loud 's work on her page!
======
This artwork is by my friend and collaborator La-Loud and includes her OC.
If you enjoyed, go give her a look on her DA page!
And watch for another #QBTuesday image next week.