art by CallMePlissken
CallMePlisskin is a very skilled artist I've worked with before.
He has a huge collection of artwork of kinky fun times with several very sexy characters.
Among them is the crew and stars of his Furious Angels comic.
He's currently hosting an artwork competition with some nice prizes.
Contest details are here: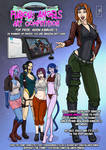 Go check out his page and all his other sexy work.
www.patreon.com/callmeplissken…