Artwork by DxC2005
The twenty combatants stood in a circle, enshrouded in darkness.
Dancing flames in cauldrons marked the corners of the platform on which they stood. The luminescence of their lingerie and fighting mitts gave off the only other light, casting a soft glow over toned bodies and soft flesh.
One by one the women had been delivered to this platform in the middle of the lake, hooded until the moment all were in position, preserving the element of surprise. Many could have guessed at some of the names on the roster, but none could have predicted them all.
======
My friend Dxc2005 is kicking off another melee fighting tournament soon, and this time, not only has he invited my OC Deena (and her killer abs) to participate, I'm partnering with him to write the narration of the play-by-play.
Go see the full image on his DA page here, as well as four more images showing the full lineup: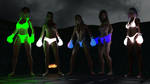 In this image you can also see Sylvie ( MissSylvie ) to Deena's right and Jessica to her left; in the full image you can also see Aura (Aurasynth) in green and my friend Zoey – ( Zoeyfemmefatale ) in white.
Other friends of mine include Denise ( Curia-DD ), Daisy ( daisypierce2000 ), Cecy ( Cecyme ), and Jessi ( JessiBowen ).
Go check out the DA pages of Dxc2005 and give him some positive reinforcement!
======
Please go check out his work and find out how Deena fares in her matches!
And check out his feature length stories on his gumroad, too!
———————
Thanks to all the creative partners in our community for all the creative energy, enthusiasm and encouragement of our entire group–I'm grateful to all of you! #Gratitude2023 <–my mantra for the new year!
If you'd like to join us in our Agents of S.P.A.N.K. discord server, send me a private message.
~~~~~~