Artwork by WareWolfBarmitzvah
4kHD uncensored PDF available https://katied.gumroad.com/l/cvfzr
POOR QUINN…she resisted Rudy for so long, but it was inevitable…Rudy had that certain je ne sais quoi that conquered her will and made her submit to him.
Once Quinn realized – and acknowledged to Rudy – just how much pleasure he was giving her and how much she needed him…


Well, that's when the goblin bastard decided he was through with her. Tsk, tsk. Typical.


======


I realize this doesn't look great with that big-ass speech bubble…it's a decadent image and important to the story though, and there are many of you who would enjoy seeing it.


A goblin-jizz facial just isn't going to be safe for DA. I have to leave it censored on WordPress, tumblr and Twitter, too.


There is one more page still to post to DA- but if you don't want to wait, the complete PDF is available immediately.


The complete PDF with 25 uncensored images in HD is available at: katied.gumroad.com/l/cvfzr
======
art by @WarewolfBarMitzvah, dialogue by me.
'Rudy' is his OC.
Shout out to WareWolfBarmitzvahfor the amazing community he's built on his discord server. Everyone there is awesome about coaching and mentoring in a really collaborative environment where egos are put aside, art is freely shared, and feedback is welcomed.
If you enjoyed, go give WareWolfBarmitzvah a look on his DA page or Twitter, and he's worthy of your subscription budget at Pixiv and/or SubscribeStar.
======
This is page 22…only 1 more page to go!
First: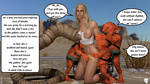 Previous: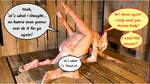 If you'd like to join us in our Agents of S.P.A.N.K. discord server, send me a private message.