Artwork by ArtOfVenus
"EWWWW!! Your hot steamy stinky breath is making my hair frizz!!!"
======
I'm sure all you creative kinksters out there can come up with an even BETTER caption than that!
Maybe something from Kong's POV?
SHOW ME! Add your caption in the comments below and I'll give a shoutout to my favorites on the next post!
======
Today's post is the 24th of a series, "Quick Bites Tuesday."
Credit to @CallMePlisskin for the original idea for the series.
MASSIVE thank you to my artist partners who have collaborated with me on this series!!
I'm very grateful for you! #Gratitude2023
======
As promised, here's my favorite from last week;chalk up another 'win' for my friend @joejanus with his rather unique (and I must say, quite effective) interrogation technique:
"You will find I have ways of making you talk whether you want to or not…now, what kind of hair products do you use?"
(it actually worked! – according to @joejanus it works on blondes every time)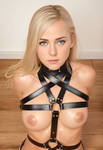 ======
This image is a special one: it's #4 of a 9-image series by @ArtofVenus starring Evie and Kong, commissioned by one of his patrons. You can find the entire 9-image series on his Patreon It's a VERY sexy series!
If you enjoyed, go give ArtOfVenus a look on his DA page or other links, and he's worthy of your subscription budget at Patreon and/or SubscribeStar.
Thanks to all the creative partners in our community for all the creative energy, enthusiasm and encouragement of our entire group–I'm grateful to all of you! #Gratitude2023 <–my mantra for the new year!
If you'd like to join us in our Agents of S.P.A.N.K. discord server, send me a private message.
~~~~~~