Artwork by MenchiMenagerie
"Evie, Evie, Evie…what are the odds I'd find you half-naked in the cage of an orc slave trader?"
The Black Dragon Bounty Hunter Deluna laughed.
"Actually, probably quite high, now I think of it. Nevertheless, once I turn you over to the warlord General Vicarion for the price on your head, you're going to wish you were ONLY some orc's plaything."
======
I'm sure all you creative kinksters out there can come up with an even BETTER caption than that!
SHOW ME! Add your caption in the comments below and I'll give a shoutout to my favorites on the next post!
======
Today's post is the 22nd of a series, "Quick Bites Tuesday."
Credit to @CallMePlisskin for the original idea for the series.
He has his own #TuesdayTease series on his page – go check it out!
MASSIVE thank you to my artist partners who have collaborated with me on this series!!
I'm very grateful for you! #Gratitude2023
======
"All right, you're on. One fall to a finish, loser has to be the winner's slave for a weekend, and chloroform is legal…wait, what was that last oohhhhhhhhhhhhhhh!"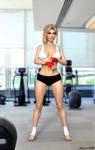 ======
This artwork is by my friend and collaborator @MenchiMenagerie
If you enjoyed, go give him a look on his DA page!
And watch for another #QBTuesday image next week.
~~~~~~