Artwork by WareWolfBarmitzvah
Full uncensored image and text at WordPress Link
OH POOR QUINN…Rudy the big boss is finally giving her some attention, but it's not exactly in the way she hoped.
When we last saw lovely Quinn, Rudy had defeated her in a 'fair' fight, meaning she forfeited her freedom.
He had given her a choice: submit to him or go back to the orange runt goblins…
She chose to stay with him…wearing his collar and calling him 'Master.'
So…how are they getting along now?
I have to admit, Rudy and Quinn have a very twisted relationship!
======
art by @WarewolfBarMitzvah, dialogue by me.
'Rudy' is his OC.
If you enjoyed, go give WareWolfBarmitzvah a look on his DA page or Twitter, and he's worthy of your subscription budget at Pixiv and/or SubscribeStar.
======
This is page 15…more pages will be posted over the next few weeks, so watch for more Quinn soon!
First: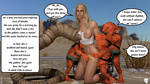 Previous: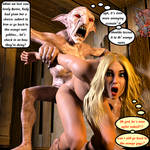 If you'd like to join us in our Agents of S.P.A.N.K. discord server, send me a private message.