Artwork by WareWolfBarmitzvah
Full image and text at WordPress Link
OH POOR QUINN…Rudy the big boss is finally giving her some attention, but it's not exactly in the way she hoped.
Rudy challenged Quinn to fight him, offering her freedom if she was able to best him.
Quinn surprised Rudy with a quick strike with her left that barely missed his jaw.
"I just needed a fair fight…" she snarled.
Unfortunately, Quinn's missed strike left her off balance with her guard down.
This wasn't Rudy's first fight, though…and he took advantage, grabbing her arm to pull her further off balance while driving his knee into her gut.
"Too bad, sweet tits," he mocked. "Goblins don' fight fair."
"UNNNGH! Bastard!!" she cried as she tried to catch her breath. Her knees buckled and she tried to fall to the floor so she could spin away from him.
Rudy didn't let go, though…he had other plans for her in this vulnerable position!
======
art by @WarewolfBarMitzvah, dialogue by me.
'Rudy' is his OC.
If you enjoyed, go give WareWolfBarmitzvah a look on his DA page or Twitter, and he's worthy of your subscription budget at Pixiv and/or SubscribeStar.
======
This is page 10 of 14…more pages will be posted over the next few weeks, so watch for more Quinn soon!
First: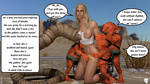 If you'd like to join us in our Agents of S.P.A.N.K. discord server, send me a private message.